Dispatch and Delivery

Items are dispatched usually within 2 working days of payment or clearance of funds.
In most cases they are posted the next day. Daily posting is usually at 9.30am.
You will be sent a confirmation of posting email to notify you that it is on its way.
This email will contain a lot more information about the delivery and tracking of your purchase.
All packages will require a signature at your end.
Please ensure that you are having the package delivered to an address that is occupied.
In the event of your package being returned to me (and they are!). I will notify you by email and you will be required to submit another payment for the re-packaging and shipping cost.
There will also be a £2.00 surchage for re-packaging and handling.
Returns have usually been as a result of :
1 an unoccupied destination address. Acceptance signature not available.
2 the buyer not bothering to collect the package from their local postal depot.
3 the buyer not bothering to arrange a re-delivery on a convenient date.
4 the postman not leaving a 'Sorry, You Were Out .....' card to inform the buyer that a delivery
was attempted.
5 incorrect or incomplete delivery addresses.
If you are unfamiliar with the 'Signed For' process:
Your postman will attempt a personal delivery at your specified address and will expect to get an acceptance signature.
If there is no one to receive the package he will leave a note for you (see image below).
They will take the package back to your local postal depot.

They will not come back - They will NOT!
You are expected to collect the package from your local depot or contact the depot for further assistance.
If you do not, it will be returned to me. The holding period in your local depot varies between countries - it is typically 14 days in the UK.
Your package will be re-shipped to you on full payment of the shipping charge + £2.00.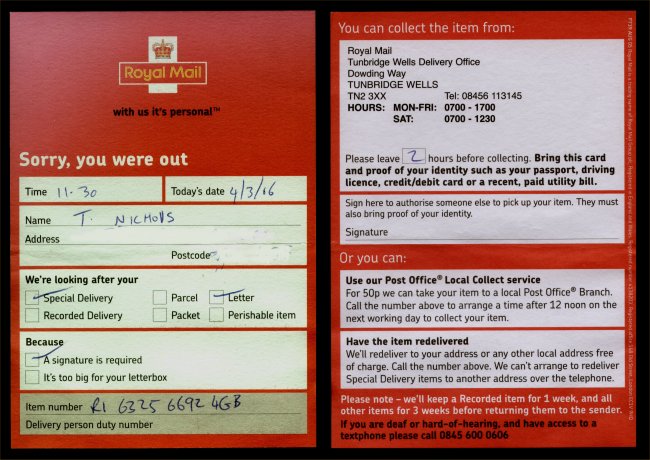 A specimen card left by the UK postal service.

There will be no use of standard mail services at the buyer's request. Shipping can be to any address specified by the buyer, and may be delayed to suit the buyer's diary, but it will always use a 'Signed For' service.
It is the buyer's responsibility to have the package accepted.
All additional costs due to shipping returned packages will be borne by the buyer.
You may have deduced from the tone of this text that this happens quite a lot!
For any further clarification please contact Past Pages by email.
Delivery Address

In most cases the delivery address will be that supplied by you on your email.
If you pay by PayPal your registered delivery address may be used if you have not already provided an address.
In either case your address will be copied from the relevant email and
pasted to the dispatch label.
It is your responsibility to provide a credible address.
The font style and size will be modified to suit the dispatch label, but there will be no attempt to
reformat or try to re-interpret your basic address.
This may affect the efficiency of delivery through your local postal system.
If you are in doubt, please check how your personal details are presented.
If you wish to supply a different delivery address, or the same address in a different format,
please do so at the time of payment.
Periodic Shutdowns


In the event of holidays, when the overworked and highly stressed staff of this organisation take a break, there will be a suspension of activities. Messages will not be answered and deliveries will not resume until the dates specified on various notice pages and auto-reply emails.


International Tracking of Royal Mail packages from the UK
Your mail was sent in the UK via Royal Mail - the British postal carrier.
The tracking number can be used on the Royal Mail web site to track certain aspects of the item's journey.

Stage 1 - Package still in the UK and in Royal Mail possession.
Stage 2 - Package passed to airline for transportation to destination country.
Stage 3 - Package within destination country.
Stage 4 - (Some countries) Package held in Customs Depot for processing of Excise Duty
Stage 5 - Package released to local postal service.
Stage 6 - Package delivered.

The Royal Mail tracking will cover stages 1 to 6.
The tracking system in the destination country will cover stages 3 to 6.
The quality of the stage 3/4 tracking will vary from country to country, and may be very good to very bad. The destination country may have online tracking, or tracking via telephone or tracking at an office counter. Or no tracking.
Different countries handle the 'Signed For' signature in their own ways.
They will hold a package locally for between 7 and 21 days before returning it to the source of origin - here in the UK.
Some countries are notoriously bad at leaving notes for customers. Here in the UK, the Royal Mail will not investigate 'lost' or delayed mail, until at least 28 days have passed from the posting date. This allows for various 'natural' delivery processes to develop. Around the Christmas period they may extend this period to cover the heavy demand placed on postal services during the festive season.

In 2011 it was discovered that between Dec 14 - 18 all air mail from the UK to Greece was at full capacity and the surplus was placed on trucks and sent by road. The full extent of this practice is not known, and is not the sort of information that the postal services are keen to publicise. After all, you have paid for a swift air mail service and have got a slow road delivery. This was only uncovered by a keen customer in Greece persecuting his local postal service for explanations as to the whereabouts of his missing mail.

The Past Pages enterprise has been shipping packages worldwide since 2006 and has not yet had a genuine 'lost' package. Many have been delayed, but most have been the result of attempted deliveries that resulted in the package being held at a local postal depot and eventually sent back to the UK.