Houses - Knights Place
Knights Place, Lower Green Road, Pembury Researched and compiled by Jane Grooms & Jennifer Beviere

The location, map and details of the architecture of Knight's place are detailed in the following link:
https://historicengland.org.uk/listing/the-list/list-entry/1254435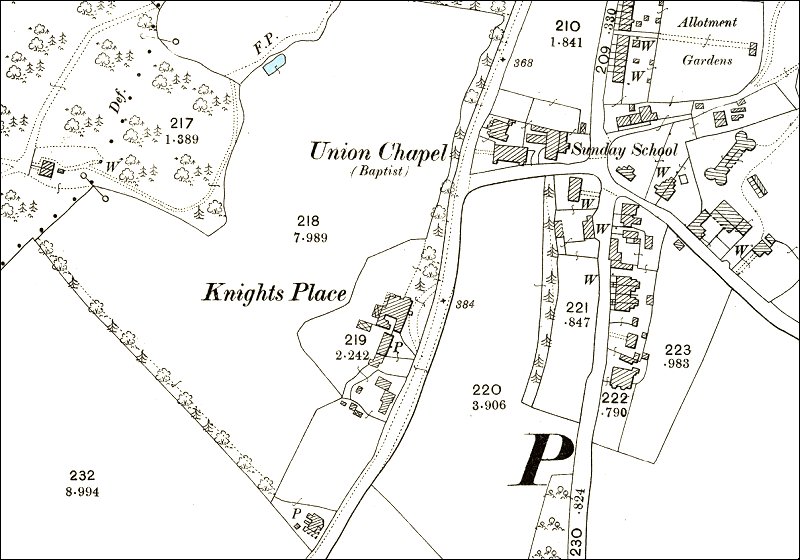 Above – 1892 map of Lower Green Road showing Knights Place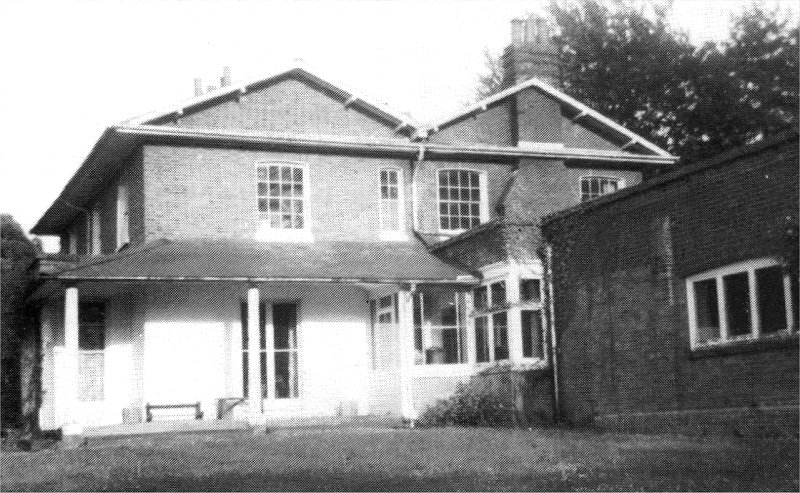 Above – Knights Place in the 1960s
Owners/Occupiers of Knights Place
1840 Tithe map plot 390. Owner Mary West; Occupier William Finch Jnr.
1841 to 1871 Captain JW Finch born circa 1806 head of household; dies 1871.
Sophia Jane Finch nee West born circa 1816 his wife; dies 1904.
Children:
(1) John William Finch born 1839; He is a Captain of the Northumberland Artillery in 1861.
-marries Elizabeth Onions in 1865. Elizabeth dies in 1881.
-marries Lydia Constance Hayman in 1885.
-John dies in 1909
(2) Sophia Emma Anna Maria Finch born 1842; marries John Charles Kenward Shaw, a widower,
in 1868. (His first wife was Maria Shaw nee Sparkles who dies in 1863.)
Sophia and John live at Kenward, Half Moon Lane, Pembury from circa 1871 to circa 1901.
John Charles Kenward Shaw dies in 1909.
Sophia dies in 1911.
John is a 'Sir' and Sophia a 'Dame' when they die.
(3) Caroline Elizabeth Anna born 1844; remains single; dies in 1928.
1871 to 1904
Sophia Jane Finch widow of JW Finch is the head of the household until her death in 1904.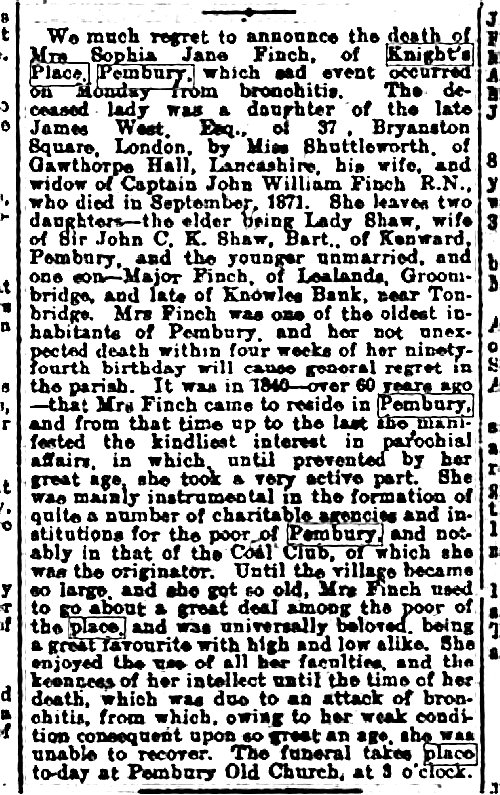 1904 to 1910
Caroline Elizabeth Anna daughter of the late JW Finch and Sophia Jane Finch presumably remains at Knights Place
until its sale in 1910 then she resides in 'the Cottage', Pembury until her death in 1928.
1910 Auction of Knights Place.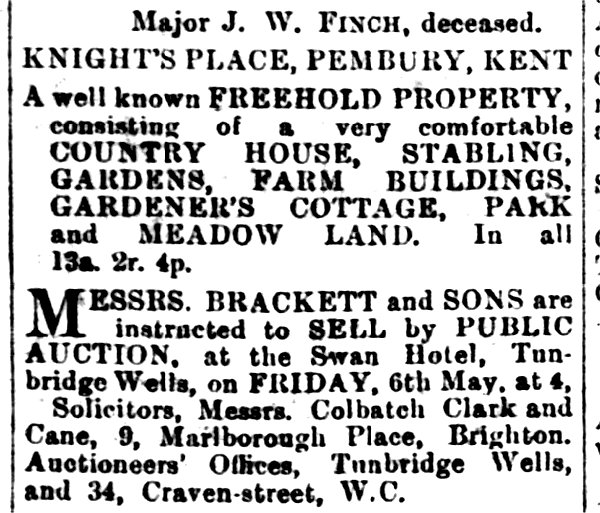 1916 JM Robertson MP living at Knights Place.
E Barden his gardener. JM Robertson tried to appeal against E Barden having to join the military.
Appeal refused. Article 14/07/1916 The Courier.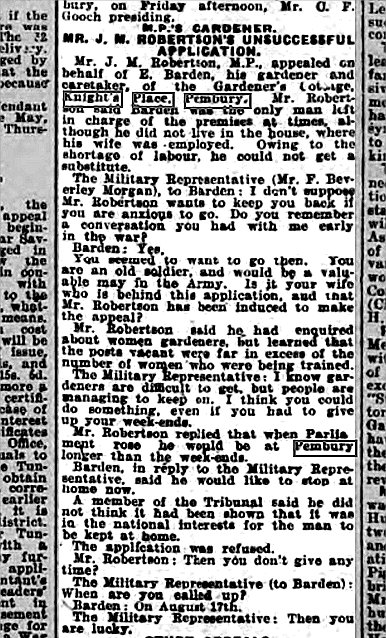 1930 Thompson Miss S Thompson dies age 78 at Knights Place. Miss Thompson is a photographer and a member of the Kodak Club.
Wilson Thompson is living at Knights Place, once owner of Quarry Hill Laundry, Tonbridge
1941 death of Wilson Thompson of Knights Place age 83.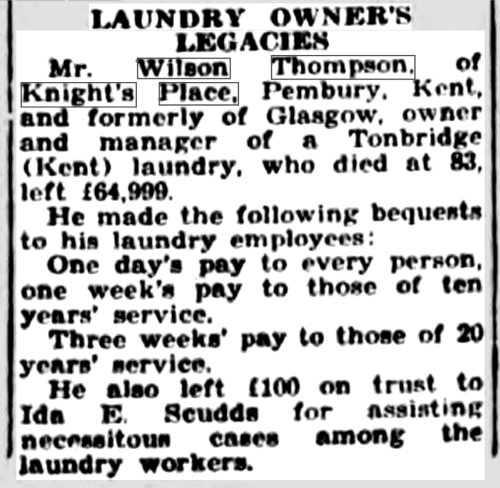 1944 at least until 1952 – RW Smeal
The managing director of Quarry Hill Laundry (see above) is living at Knights Place.
He dies aged 57 in 1952.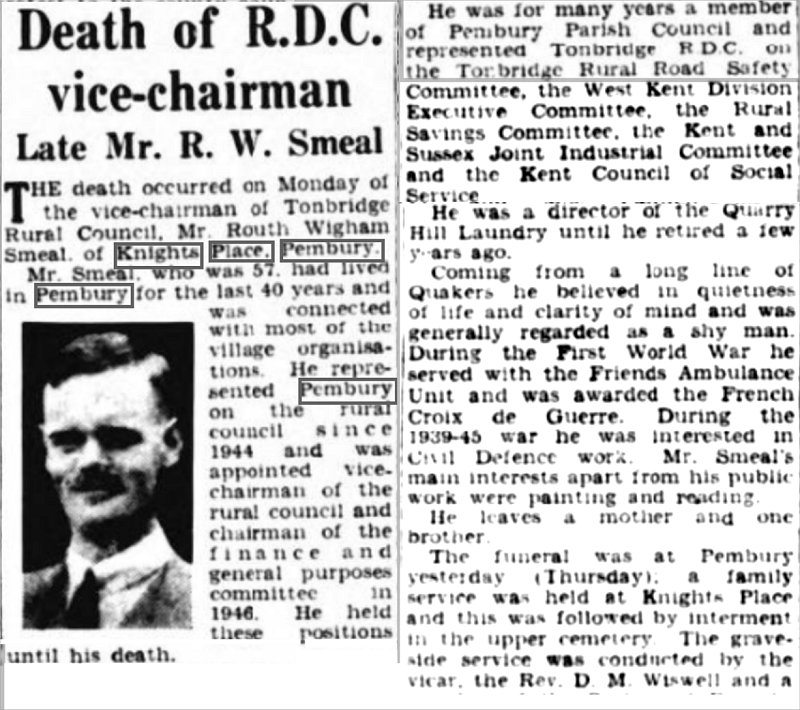 1969
Marie Victoria Lennard
1973 Knights Place for sale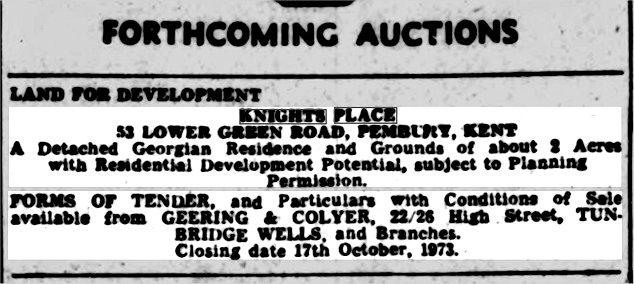 1975 Planning application for conversion to flats refused.
1978 Fourteen flats confirmed at Knights Place to be called 'Beech Hurst'.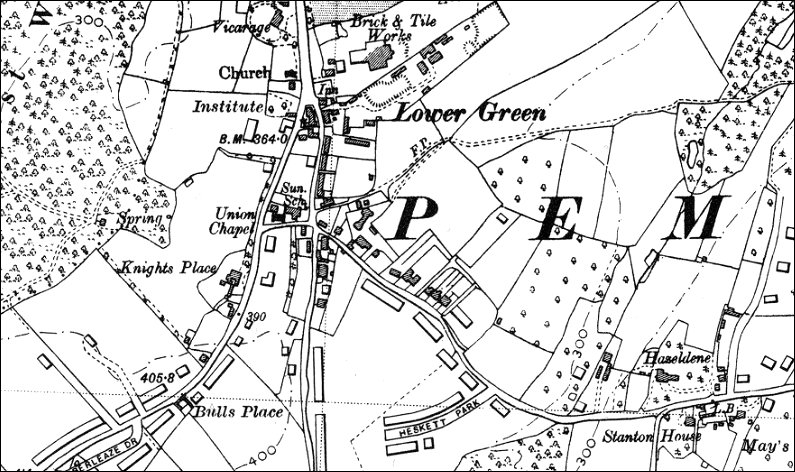 Above – 1938 map of Lower Green Road showing Knights Place