Localities - High Street
The following maps highlight various aspects of the High Street.
Colour has been added to visually promote certain buildings or features.
Colour also helps to show common plots of land on maps of different ages.

This is a portion of an Ordnance Survey map of Pembury from about 1868
It has had colour added to highlight buildings and structures.
The maps below are details of the High Street and Village Green. They are to the same scale to best aid comparisons.
Of prime interest is the collection of buildings on the village green, thought to be blacksmith workshops.
The Camden Arms also had a smithy, along with coffee rooms and stables. We have no greater detail of these buildings.

This is a portion of an Ordnance Survey map of Pembury from about 1897. Buildings are now printed in hash shading.
The Camden Hotel outbuildings and Smithy are better defined, as are the Smithy on the green buildings.
Some of the High Street buildings have been redefined, and some land plots have been sub-divided.
Post Office located near to No 15 High Street.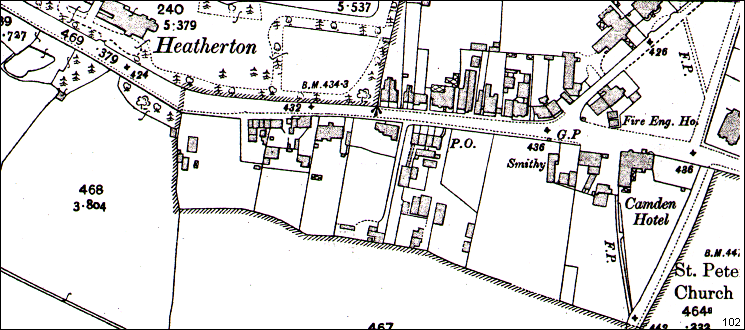 This is a portion of an Ordnance Survey map of Pembury from about 1907
Note the presence of a Fire Engine House on the Village Green.
Post Office still shown in central High Street.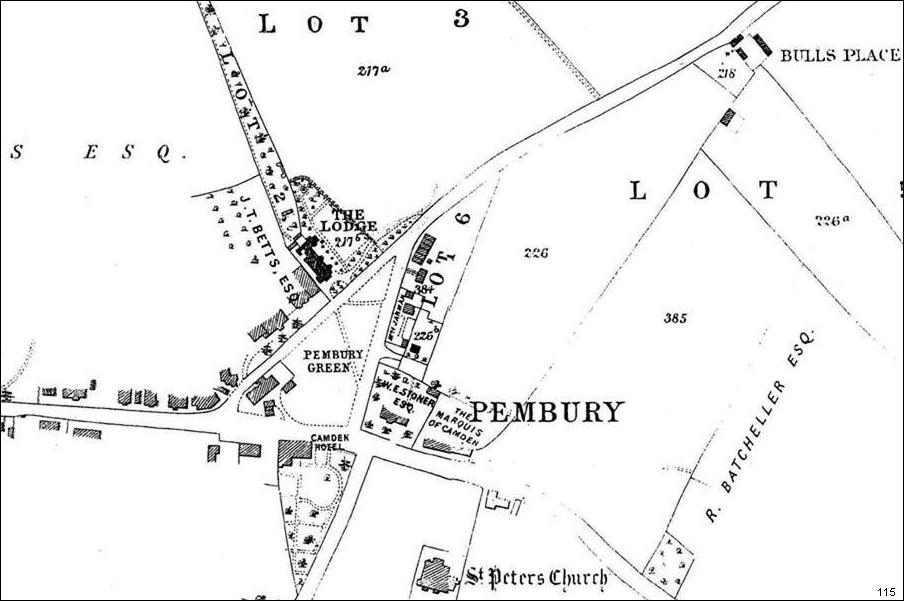 This map, thought to date from c1890, appears to show land plots for sale.
Click on map for extended range.
.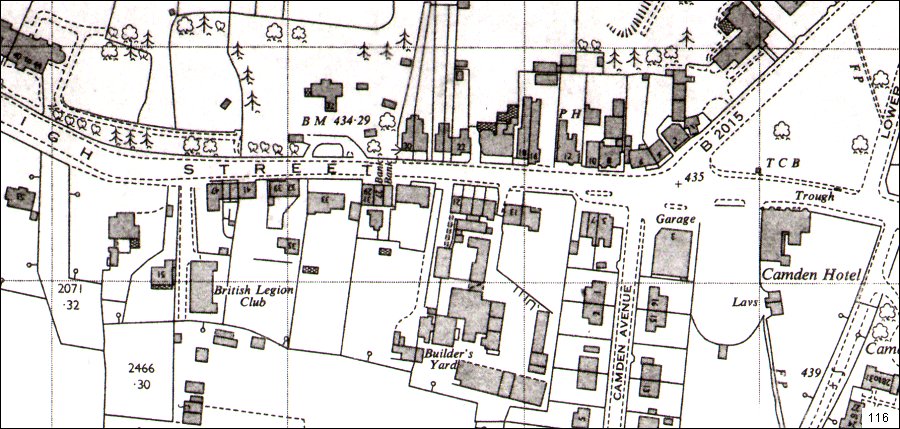 High Street 1963
Square Deal Cafe shown on the bend in the High St next to No 51.
Camden Hotel has 'Lavs' or public toilets in its grounds.
====================================================================================================================
The maps below are in pairs to show a comparison of ancient and modern.
Each map hopes to indicate a particular historic feature.…
1868 2010

..
Above – The basic maps before too much manipulation
1868 2010

..
Above – Ancient field or land division highlighted in yellow. This is sub-divided for High Street property plots.
On the 2009 map Camden Avenue is projected forward to some common features on No 6 High St.
The same projection lines are copied onto the 1868 map from the same trusted features on No6 High St.
This shows us the location of Camden Avenue on the 1868 map. It helps us appreciate the location of the Camden Smithy.
Common land plot identified in lower-left corner.
It is always good practice to identify as many common features as possible. It then gives confidence with guesses and assumptions.
1868 2010

Above – Identifying the block of 4 houses Nos 15-21 High Street and the first plot of land in Lower Green Road.
1868 2010

Above – Colouring of various plots to show the divisions of land held by High Street businesses.
Left plot in yellow – No 16 & 18 today, but earlier were 3 properties – 14, 16, 18
Central plot – cyan (light blue) No 12 Black Horse pub.
Central plot – olive – Nos 10 & 8 – Henry Paul and Fish & Chip shop.
Right plot – yellow Nos 2, 4, 6 Land plots easily to identify.
Lower left field, coloured light green, later developed for houses & shops.
1909 2010

Above – 1909 map with many of the High Street Buildings modified. Village Green now has Fire Engine House.
Smithy no longer mentioned on the Village Green. Camden Smithy is better defined.
Post Office is shown at No 15 High St. This may be an error.
1868 2010

..
Above – back to the 1868 map
These sighting points are to help aid the visualisation of the buildings on the village green – thought to be blacksmith's workshops.
Any number of these virtual alignments can be created to help understand data missing from a space.
Standing on these corners and sighting the buildings on the other side of the green will help locate the smithy buildings.
It would appear a slice has been shaved off the green in order to make Lower Green Road wider, and to provide a pavement.
The far right sight line is from the corner of Chalket Lane – lost when the map was cropped!
Tony Nicholls 2013