Names
Names of people featured in photographs on this web site
Because of data privacy laws and the sensitivity of having peoples' names appearing on web sites it has been decided to separate the names from the main pictures. In diverting you to this page you are being made aware of our privacy concerns. Pictures on the web site should have unique reference numbers (ie P013). People who are known in a particular photo may be named here under the specific reference number. The person donating the photo has obviously given their permission for the names to be published, but that does not apply to people in the photos. This process is most likely to be applied to group photos rather than individual portraits or small families. If you see your name here and wish it to be removed please contact us at the email address below, quoting photo ref number and your name. The advantage of publishing known names is to assist descendants, relatives and old friends in their quest for tracing lost contacts. We feel that the benefits of publishing these names outweighs the privacy laws designed for more pressing needs than local history records. This web site does have its general privacy notice on the main menu selection. For any corrections or editing names on this page please contact us at history@pembury.org
Mxxx pictures from Donated Photographs – Misc page – link here
Pxxx pictures from Donated Photographs – People page – link here
M011 Pembury Children at the Woodsgate Swimming Pool early – mid 1950s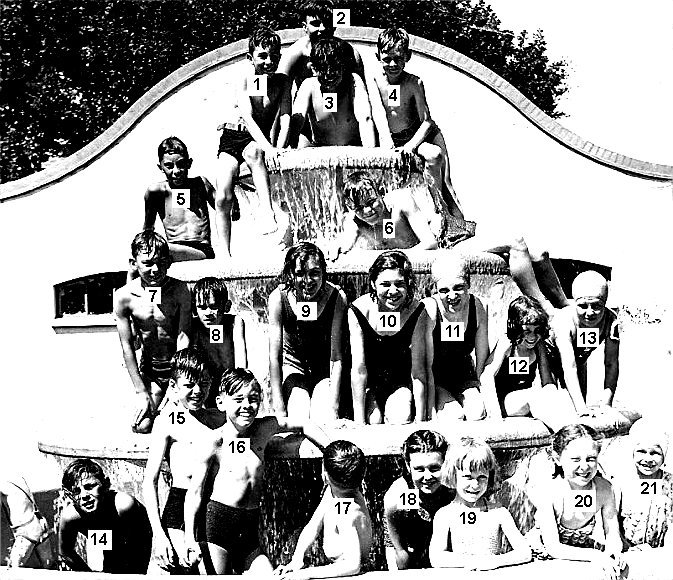 1 Melvyn Cole 2 Trevor Jarvis 3 Roy Waghorn 4 Barry Grainger 5 Nick Nibbs 6 Ray Lee 7 Nigel Sturgeon 8 Ian Ford 9/10 Vater twins
11 Unknown 12 Unknown 13 Unknown 14 Stuart Gear 15 Leo Sturgeon 16 Dick Kirkham 17 Unknown 18 Unknown 19 Anthea Foot 21 Unkown
M013 Pembury Football Team 1948
Back Row Standing (left to right)
Eric Leach, Ron Foord, Bill Coppard, Peter Cole, Arthur Cole.
Front Row Sitting (left to right)
Peter Chandler, Ron Cherritt, Spot Granger, Mont Clark, Jack Deacon, George Kerwin
M020 to M024 were not residents of Pembury but annual trippers from a school in Wimbledon.
M020 James Gallagher (known as 'Galley')
M021 Mary Forbes (left with plats) Juta Tomkinson (looking directly ahead)
M022 Left to Right Peter Shilling, Clive Davies, Peter Cakebread, Robert Lintern.
M023 Diane Mar
P008 Pembury School –
Front row 2nd from right Arthur Cole. All others unknown
P013 Pembury School c1952
Back Row Left to Right
Jim Hobden, Melvyn Cole, Michael Crouch, David Farley, Keith Morphett, Nicholas Drury, Terry Woods, Ronald Wiles, David Corbett.
Middle Row Left to Right
Peter Adams, Richard Evans, Ian Ford, Unknown, Angela Hales, Melanie Burgess, Graham Chantler, David Tolhurst, David Skinner.
Front Row Left to Right Gillian Murphy, Unknown, Unknown, Rosemary Smith, Roseland Stugeon, Unknown, Jean Young, Bruce Rupe, Malcome Smith.
P014 Pembury School late 1920s Back Row, End Right Joan Cole
PO16 Pembury School 1954
Very Back Row, Left to Right Mr.Beynon – Mr Linburn
Back Row Left to Right Melvyn Cole, Jim Hobden, Graham Chantler, Michael Morphett, Jeff Brockelsby, David Wooden, Barry Hoath
Front Row Left to Right Barry Grainger, Robert Lee, Peter Adams, Ian Ford, David Corbett.
PO17 Pippins Farm c1943
Left Front Bronwen Cole, Melvyn Cole, Violet Cole
Far Right Mrs Horton
PO20 The Young Family
Back Row Left to Right Ambrose Young, Emily Leticia Young, Violet Young
Front Row Left to Right Arthur Young, Mable Young, Emma Young
P021 Pembury Football Club c1950s
Back Row Standing (left to right) 18 men
Ron Foord, Jack Armstrong, Jim Frances, Richard Waterman, Ron Perryman, John Boakes, Mick Waterman, ? Collins, Keith Foord, Phil Chapman,
Bill Coppard, Reg Porter, Jack Deacon, Malcolm Balderstone, Gordon Barnet, Unknown, Mick Hatch, Mick Shave.
Front Row Kneeling (left to right) 10 men
Pete Saunders, John Hartley, Melvyn Cole, Gordon Francis, Barry Granger, Peter Adams, Doug Drury, Derek Williams, Michael Twort, Hugh Boorman.
P022 Pembury Football Club late 1940s – early 1950s
Back Row Standing (left to right)
Arthur Latter, Les Chandler, Bill Coppard, Unknown, Jack Armstrong
Middle Row Standing (left to right)
Spot Grainger, Unknown, Bert Kemp, Unknown, Unknown, ? Ackhurst, Unknown, Unknown, Des Malthouse, Arthur Cole
Front Row Sitting (left to right)
Peter Chandler, Eric Leach, Ron Foord,, Mony Clark, Peter Cole, Jack Deacon, Unknown, George Kerwin.
P023 Pembury Second Team c1960s
Back Row Standing (left to right)
Doug Drury, Unknown, Gordon Barnett, Mick Hatch, Malcolm Balderstone, Unknown
Front Row Kneeling (left to right)
Peter Adams, Dennis Cole ?, Hughie Boorman, Mick Shave, Derek Williams
P024 Pembury Lads c1956
Back Row Standing (left to right)
Johnny Wooden, Dirk Kirkham, Jim Francis, Barry Sturgeon, John Henley, Brian Midmore.
Front Row Kneeling (left to right)
Keith Foord, Les Vousden, Gorden Barnet, Derek "Barlow" Reeves
P025 Pembury School c1951
Back Row Standing (left to right)
Richard Noakes, Unknown, Marjorie Jenner, Joahn Boakes, Grace Peckham, Ronald Woods, Richard Crouch
Middle Row (left to right)
Unknown, John Stevens, John Adams, Norman Smith, Derek Gabby, Douglas Jackson
Front Row Sitting (left to right)
Jaqueline Gorringe, Joyce Tapp, Judith Farley, Daphne Watson, Rosemary Taverner, Jean Burley
P026 Pembury Ventures c1949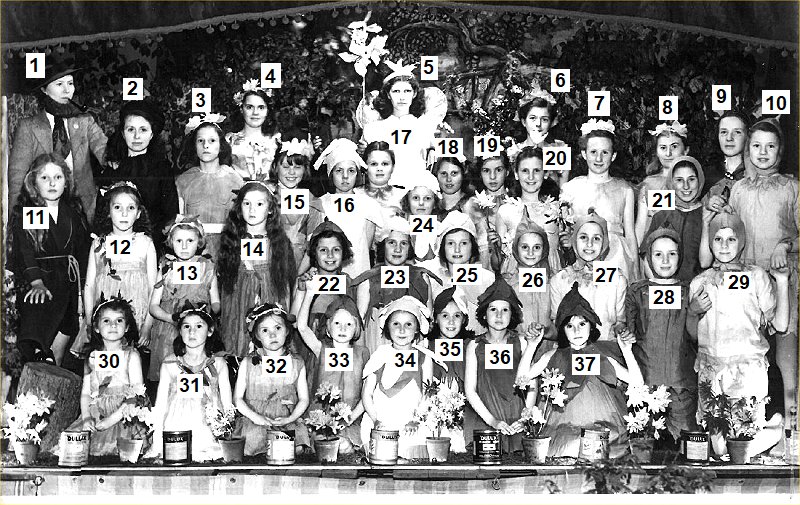 1 Mrs Johnson/Hudson (married twice) 2 Jean Tolhurst 3 Shirley Chantler 4 Rita Tolhurst 5 Hazel Horne 6 Stella Sturgeon
7 Mary Wickenden 8 Winnie Figgett 9 Pauline Sturgeon 10 Margaret Francis 11 Maureen Stevens 12 Sandra Eldrett
13 Jean Young 14 Maureen Rushant 15 Valerie Fry 16 Janet Sturgeon 17 Yvonne Perkins 18 Jean Fuller 19 Joyce Figgett
20 Pauline Stevenson 21 Heather Hersey 22 Jill Drury 23 Rita Young 24 Rosemary Taverner 25 Sylvia Jury 26 Anita Wheeler
27 Peggy Brown 28 Rosemary Groves 29 Sheila Rice 30 Trina Larkin 31 Gillian Murphy 32 Roslyn Sturgeon 33 Rosemary Figgett
34 Eileen Brown 35 Wendy Corbett 36 Janet Murphy 37 Pauline Rice
P030 Pembury Institute Social c1951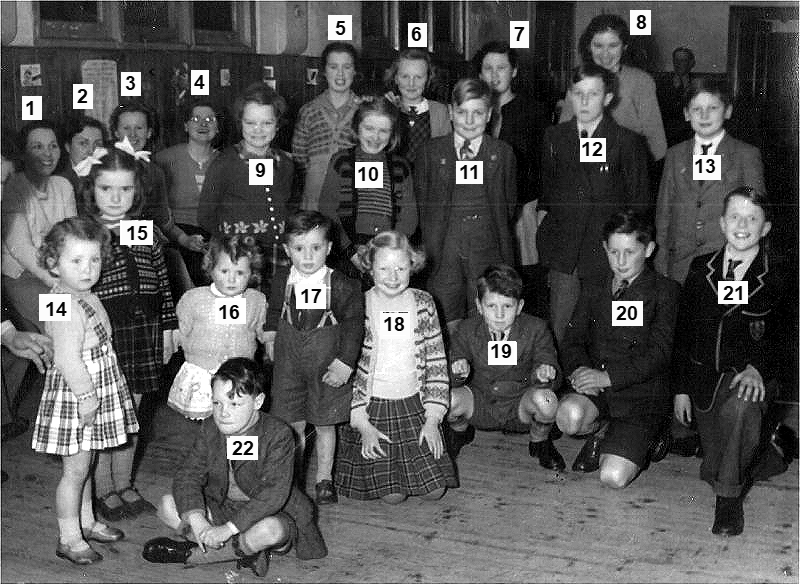 1 Bronwen Cole 2 Madge Granger 3 Joan Hoath 4 Millie Kemp 5 Pam Addison 6 Rosemary Taverner 7 Eileen Flynn
8 Sheila Woods 9 Ann Shave 10 Mavis Dallimore 11 Ray Kemp 12 Keith Foord 13 Peter Flynn
14 Mary Murtagh 15 Pauline Dallimore 16 Carol Dorrington 17 Malcolm Dorrington 18 Rosemary Figgett 19 Gordon Francis
20 Frank Wickenden 21 Jim Francis 22 Mick Shave
P031 Pembury Cricket Club 1930s
Back Row Left to Right
Unknown, Arthur Cole, Unknown, Unknown, Arthur Penn, Unknown, Jack Lucus
Front Row Left to Right
Unknown, Unknown, Sam Standing, Ken Grainger
Sitting on Ground –
Unknown
P033 Pembury British Legion Tuft Club 1954
Back Row Left to Right
David Taylor, Brian Killick, Roger Sage, Tommy Bran, Sam Standing, Dick Liniger, Arthur Balderstone
Front Row Left to Right
Len Brown, Arthur Penn, Arthur Cole, Roger Maguire, Phillip Sprackling
P034 British Legion Tuft Club
Back Row Left to Right –
Roger Sage, Sam Standing, Jim Poile, Len Brown, Dick Liniger, Ted Giggett
Front Row Left to Right
Phillip Sprackling, Arthur Penn, Arthur Cole, Tommy Bran, Brian Killick
P035 Pembury Cricket Club 1940s
Back Row Left to Right
Tommy Bran, Unknown, Unknown, Unknown, Frank Wallis, Jack Goodsall
Front Row Left to Right
Ken Grainger, Paddy Nichols, Arthur Cole, Peter Chandler, Unknown, Les Chandler
P036 Pembury Cricket Club 1950s
Back Row Left to Right
Les Chandler, Peter Chandler, Unknown, Unknown, Sam Standing, Jack Hotham, Reg Porter
Front Row Left to Right
Paddy Nichols, Arthur Cole, Tommy Bran, Unknown, ? Gordon, Frank Wallis
P037 Pembury Cricket Club 1953
Back Row Left to Right
Les Chandler, Roy Jenner, Sam Standing, Ted Figgett, Peter Chandler, Brian Killick, Ken Grainger, Tommy Bran, Roger Sage.
Front Row Left to Right
Mrs Bran, Arthur Penn, Arthur Cole, Frank Wallis, David Kemp
P038 Pembury Cricket Club 1950s
Back Row Left to Right
Dave Kemp, Terry Killick, John Boakes, Walley Meakins, Malcome Balderstone, Dick Crouch, Reg Porter.
Middle Row Left to Right
Melvyn Cole, Les Bowman, Ken Grainger, Peter Adams, Keith Weddle.
Front Row (sitting) Left to Right
Ray Kemp, Peter Chandler
P039 Pembury Cricket Club 1950s
Back Row Left to Right
Phil Sprackling, Bert Kemp, Ron Foord, John Boakes, Sam Standing, Reg Porter, Keith Weddle
Front Row Left to Right
Ray Kemp, Arthur Cole, Arthur Penn, Peter Chandler, Ted Figgett.
Boy with cricket bat, end of front row- Hugh Porter Man with cap in pavilion – Ernie Perryman
P040 Pembury Cricket Club 1960s
Back Row Left to Right
Ken Grainger, Melvyn Cole, Peter Reeves, Malcome Balderstone, Reg Porter, Mick Twort, Paul Drury
Front Row Left to Right
Dave Kemp, Dick Crouch, John Boakes, Peter Adams, Ron Perryman
P041 Pembury Cricket Club 1963
Back Row Left to Right
Peter Adams, Brian Kirkham, John Boakes, Ron Perryman, Malcome Balderstone, Eric Stockwell
Front Row Left to Right
Denis Cole, Peter Chandler, Arthur Cole, Ken Grainger, Melvyn Cole
P042 Pembury Cricket Club – Tunbridge Cup
Back Row Left to Right
Peter Chandler, Brian Athill, Colin Barden, Unknown, Ron Perryman, Dick Pipe, Pete Saunders
Front Row Left to Right
Dave Kemp, Melvyn Cole, Terry Deacon, Ray Kemp, Gerry Room
P043 Pembury Old Boys XI
Back Row Left to Right
Dick Crouch, Paul Warman, Barry Grainger, Alan Hughes, John Boakes, Adrian Bradford, Alan Moxon, Dick Pipe
Front Row Left to Right
Colin Barden, Melvyn Cole, Denis Cole, Dave Kemp, Ray Kemp
P044 Pembury Primary Schools 1950
Back Row Left to Right
Norman Smith, Fred Littlechild, Richard Noakes, Jacqueline Gorringe, Naomi or Lily Millen, Keith Foord, Roy Waghorn, Norman Sapsford
Back Middle Left to Right
Barry Sturgeon, Derek Gabbie, David Morphett, Robin Brooks, Marjorie Jenner, Valerie Bell, Hamilton Woods, Ronald Wood, Reg Akehurst
Front Row Left to Right
Ann Sister, Rosemary Taverner, Jimmy Rintoll, John Wooden, Douglas Jackson, Dick Kirkham, Richard Crouch, Jean Burley, Unknown
P045 Pembury Football Club Dinner 1957-58
Top Table (Left to Right) –
Unknown, Eddie Cook, Charlie Francis, Lil Francis, (A Waiter), Ron Foord, Jenny Foord, Mick Hatch, Jean Latter
Left Hand Table Left Side (Front up to Top Table) –
Unknown, Unknown, Mrs Cook, Mr Cook, Brian Fry, Mrs Fry, Erica's Friend (Unknown), Erica Williamson, Bertha Williamson, Ted Williamson
Opposite Side Left Hand Table (Front up to Top Table) –
Tubby Turner (?), Edward Figgett, Sheila Rice, Les Palmer, John Boakes, Gerald Sturgeon, Brian Killick, Millie Kemp(?), Unknown, Jo Maynard, Barry Sturgeon (?), David Kemp
Right Hand Table Left Side (Front up to Top Table) –
Keith Foord, John Henley, Ray Kemp, Doug Drury, June Cook, Bill Cook, Jim Francis, Judy Rees, John Smith, Margaret Francis, Gordon Francis (?)
Right Hand Table Right Side (Front up to Top Table) –
Unknown, Derek (Barlow) Reeves, Les Vousden, John Wooden, Dick Kirkham
P048 Minter Family
Left to Right – unknown, Jessie & Thomas Minter, Stella Minter
P049 Minter Family
Left to Right – Jessie & Thomas Minter, unknown, Stella Minter, unknown
Please forward any fresh information, unknown faces, spelling corrections, etc to Tony Nicholls at history@pembury.org