| | |
| --- | --- |
| | |
Retail - High St
The Shops and Old Businesses of
The High Street & Woodsgate Corner
..
Introduction
The map below indicates the locations of the premises detailed in the main information table.
Each location entry lists the businesses occupying that site.
The lists run in chronological order – latest at the top, and oldest at the bottom.
Dates are given if known to be accurate, with a 'c' if approximate, and '????' if unknown.
References are given to indicate the origin of the information.
Abbreviations are detailed at the bottom of the page.
Personal contributions are acknowledged by initials and shown in full at the bottom of the page.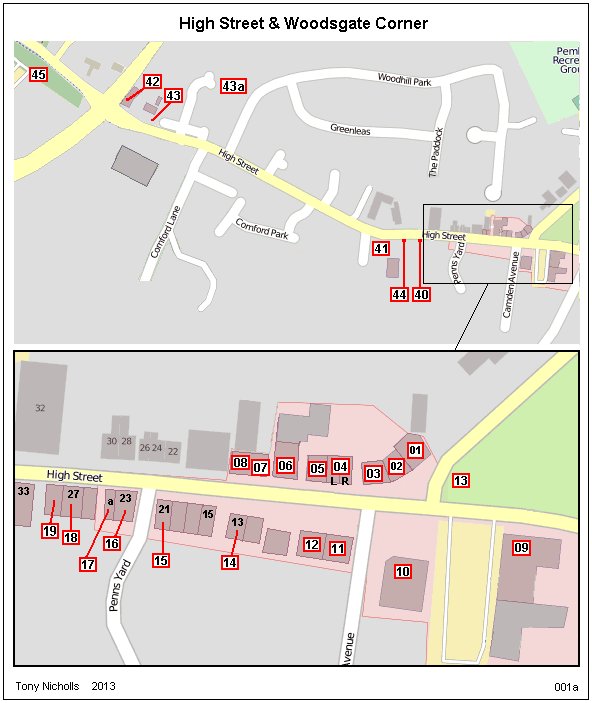 Map Ref
Business and Location details. 'current' is 2016 – last update.
01
2 High Street

Happy Days Chinese Take-away (???? – current)
Mr & Mrs Betts, Haberdasher (????) PVN Issues 84/85 1995 – Pembury Library 1970, 1974 Kelly's Dir
Mr Walter, Clothes Outfitter (????) PVN Issues 84/85 1995 – Pembury Library
Pauline & Peter Mills Drapers, Outfitters (1977) PVN Issue 12
E.R. Walker Draper, Bespoke Tailor, Men's Outfitter, Knitting & Wools High St. (WISB 1965) 1955, 1965, 1968 Kelly's Dir
E.R. Walker Draper (c1930) From Mary Standen's Old Picture Postcards p14

02
4 High Street


..




..

Nanna's Coffee Shop 4 High St (right side) Opened June 2016


..

The Barber Lounge – Barber Shop 4 High St (left side) (right side empty) Opened June 2015


..

NatWest Bank 4 High St Closed 1 Aug 2014 1970 Kelly's Dir


..

National Provincial Bank 4 High St 1955, 1965, 1968 Kelly's Dir (at No 27 High St in 1959)


..

Mount Ephraim Cleaners 4 High St 1961, 1963 Kelly's Dir


..

Mrs A.M. Neill dressmaker 4 High St 1961, 1963 Kelly's Dir


..

Telephone Exchange High St 1955 Kelly's Directory


..

Pembury Telephone Exchange 1950 (Brian Aylard PVN Issue 118 p27 2004)


..

Moved to 31 High St.


..

Pembury Post Office (1834 – c1935) From Mary Standen's Old Picture Postcards p15

Mrs A.M. Towner Tobacconist High St 1940, 1948 Kelly's Dir
Mrs Alice Towner stationer 1937, 1938 Kelly's Dir
Postmaster 1927 Alice M. Towner (Kelly's 1916, 1919, 1927) Telephone No Pembury 1
Postmaster 1914 Henry George Towner (Kelly's 1914)
Postmaster 1904 Mrs Charlotte Poxon (Kelly's 1903, 1904)
National Telephone Company Ltd (public calls offices) High St & Lower Green Kelly's 1904, 1911
Postmaster 1882 Stephen Neale (Kelly's 1882)
Postmaster 1858 George Edward Neale (Melvilles 1858 Directory of Kent)Stephen Neale – Boot & Shoe Maker, and
Postmaster (Kelly's 1882)
Neal, Stephen, boot and shoe maker, post-office, stationer, and agent to the Provincial
Welsh Kre and Life Office, and the Peoples' Provident Life Assurance Society (Melvilles Directory 1858)

Melville's Directory of 1858 has the Camden Arms listed as the Posting House / Post Office under John Faircloth.
Post Office Directory of 1855 has the Camden Arms listed as the Posting House / Post Office under George Edward Neal.

Correction to Mary Standen's (Old Picture Postcards p15 ) –

Description of the Bell Telephone sign outside the Post Office.
The American company Bell was a supplier of handsets and equipment to the early telephone companies in Great Britain.
The telephone service was operated by the National Telephone Company and the initials NTC can be seen within the bell shaped sign – NTC Public Telephone. The NTC eventually became the GPO, later British Telecom.
Telephone services came to the Tunbridge Wells area in 1901 with the Tunbridge Wells Municipal Telephone Company.

This was absorbed by the NTC in 1913. It is assumed that Pembury took its telephone feed from Tunbridge Wells.
There is little documented evidence to support the Bell Telephone Company operating the telephone service in Pembury.
(Source: http://www.britishtelephones.com/histuk.htm & http://www.whitstablescene.co.uk/1901.htm )

Official History of Pembury Post Office:

Pembury PO: established 21/9/1834 under the administration of Tonbridge postal town;
incorporated a Money Order office on 1/10/1863 and a Savings Bank on 28/12/1863;
designated a Telegraph Office in 1870; taken under the administration of Tunbridge Wells in 1870.
closure date not given.
Courtesy of Robin Sampson, The British Postal Museum & Archive via email 18/04/2013 (TN).

Indication that Post Office was transferred to Hastings Rd around 1935 From Mary Standen's Old Picture Postcards p14

Telephone Exchange chronology :

No 4 High St c1901,1902 – 1950s
Pembury Telephone Exchange occupied the floors above the shops 25-31 High St.
From Pembury Conservation Area Report 1998 p18
Address given as 31 High St. – listed in Kelly's Dir in 1968
Custom built exchange in 39/41 Hastings Rd – listed in Kelly's Dir in 1970

03
6 High Street

.

.

.

.




..

Your Move Estate Agents (???? – 2019)

..




..

Pembury Newsagents Ltd 6 High St 1970, 1972, 1974 Kelly's Dir


..

A.C. Burnett Pembury Newsagents Ltd (PVN Issue 12 1977)


..

Giles Confectioners 6 High Street Kelly's Dir


..

Harding & Vaile High Class Confectioners & Stationers 6 High Street (WISB 1965)


..

S.A. Vaile confectioner 6 High St 1961, 1963, 1965, 1968 Kelly's Dir


..

D. Drury & Son Ltd Newsagent & Confectioner High St 1938, 1940, 1948, 1950 Kelly's Dir (JH)


..

Drury & Son Newsagent High St 1933, 1934 Kelly's Dir (JH)


…

Mrs Dora Drury newsagent High St 1931 Kelly's Dir


..

Walter Albert Drury Newsagent & Confectioner High St 1911, 1916, 1919, 1927 Kelly's Dir (JH)
04
8 High St

Ocean Fish & Chips (??? – current)
G.E.Marino's Fish Bar Fish & Chips (????)
Left side (2013 as restaurant part of Fish & Chip shop) Previously 8a High St
Your Move Estate Agent (???) (SM)
GA Estate Agent (???) (SM)
Cobbs Surveyors & Estate Agent (1986) 8a High St PVN Issue 48 1986
Country Estates House Agents (1966) Pembury Parish Guide 1966

Graham Walker & Co Estate Agent, 8a High St 1968, 1972, 1974 Kelly's Dir
Graham Walker & Co Estate Agent, Auctioneers & Valuers 8a High St Kent Trade Guide 1969-70
Graham Walker Estate Agent (c1965 ?) (PVWS) From partial photo
Right Side
Spar mini market (c1965 ?) Same as Harding & Vale at No 6? (SM)
Shopping Basket grocers 8 High St 1965, 1968, 1970, 1974 Kelly's Dir

05
10 High St.

Henry Paul Funerals (??? – current)
Threshers Wine Merchants (c 2008)
Unwins Wines – Off License (1965 – c2000) (WISB 1965) 1965, 1968, 1972 Kelly's Dir
John Maynard – Grocer ???? – 1964 (DG) (TK)
Walter C. Raiswell Photo (WISB 1965)
Walter C. Raiswell Ld Grocer, Wines & Spirits High St 1950, 1955 Kelly's Dir
Walter C. Raiswell Ld Grocer High St 1934, 1938, 1940 Kelly's Dir
Walter C. Raiswell High Class Grocer (???) From Mary Standen's Old Picture Postcards p16 & p19
Walter C. Raiswell photograph (c1920s) From Mary Standen's Pembury in the Past p32
Fritz Featherstone Grocer, Draper (c1912) From Mary Standen's Old Picture Postcards p18 Kelly's Dir 1903, 1904, 1911, 1914, 1919
Carved stone with a date of 1871 set into lower corner close to an old gate hinge. Might reflect date of building.

06
12 High St

Black Horse Public House & Restaurant (c1801 – current)
Postcard of 1930 showing part of frontage – Mary Standen's Old Picture Postcards p19
Postcard of 1920 showing part of frontage – Mary Standen's Old Picture Postcards p16
Various Views – PVWS (WISB 1965)
In both cases frontage has a fence and lamp above door.
Pub extension & Restaurant annex 2000 (MC)
Building Dates from 1801 From Pembury Conservation Area Report 1998 P15
See Pembury Pubs page for more detail.

07
16 High St (also 18 High St)

BarnesKingsnorth Estate Agent (???? – current)
Kingsnorth Estate Agent (????)
Denise Barnes Estate Agent (pre1990 – ????)
Photo of c1990 shows Denise Barnes next door to a hardware shop Pembury Our Village, Our Future 1990
Paul Champion & Prall Estate Agents c1981 (DG)
Stationery Store & Office Supplies ?? moved to rear in Blackhorse Mews (????) (SM)
Camden Ironmongers (Carrs) 16 – 18 High St (1977) PVN Issue 12 1977 (DG)
Camden Ironmongers (Moss, Rose Ltd) 16-18 High St 1965, 1968, 1970, 1974 Kelly's Dir
Stan's Hardware Store Stan Moxan c1960s (SM) Former manager of Camden Ironmonger (JS) Moved to No 18
Linkworth Ltd, ironmongers 16 High St 1963 Kelly's Dir
Sweet Shop / Barber (c1920) at rear of this site – now Blackhorse Mews. Mary Standen's Old Picture Postcards p16
John Taylor Tobacconist High St 1940, 1955 Kelly's Dir
J. Taylor Tobacconist 14 High St 1959 Kelly's Dir Confirmation of address ????
Jn. Taylor Tobacconist High St 1927, 1937 Kelly's Dir
Jack Taylor – tobacco, cigarettes & betting. From Mary Standen's Old Picture Postcards p16
Parker - Saddler from an undated photograph.
Arthur Thomas Verrels, Saddler 1911, 1919 Kelly's Dir (Identified from High Street photograph showing his shop next to Wood's bakers) This thought to be No 14.
Later photographs show Parker as a Saddler at No 14 and it is assumed he took over from Verrels at the same address.


The dwellings behind this site, access via Blackhorse Mews, were at one time the haunts of small traders.
Old address listings quote this block as 16 – 18 High Street.


Note that No 14 High Street, between 12 (Black Horse) and 16 is no longer there.
It was demolished (date unknown) to make way for Blackhorse Mews.
Maps and plans of the High Street do not adequately show the gap between Nos 12 & 16,
but standing on the opposite side of the road it is clear that there was another building there.



08
18 High St.

Hospice in the Weald Charity Shop (???? – current)
Photo of c1990 shows a hardware shop Pembury Our Village, Our Future 1990
Stan's Hardware Store Stan Moxon c1990s (SM) Former manager of Camden Ironmonger (JS)
Stan's 18 High Street Outlook (church magazine) adverts 1991 – 1994
Stan Moved from No 16 to No 18 (DG) (TK)
Camden Ironmongers 14 – 18 High St (1972 -1977) PVN Issue 12 1977 Kelly's Dir 1972
Acotts , Baker (????) PVN Issues 84/85 1995 – Pembury Library
Avards – Baker c1960s (JS)
Albert Acott, Baker, 16High St 1959 Kelly's Dir This enrty has an address of 16 High St.
Albert Acott, Baker, High St 1950, 1955, 1961 Kelly's Dir
Albert Cott Baker High St 1938 Kelly's (possible spelling error on Albert Acott 18 High St)
Alfred Woods Baker High St 1934 Kelly's Dir
Wood's Bakers (c1920) From Mary Standen's Old Picture Postcards p17 – Hovis sign
Alfred Henry Woods – Baker, High St Kelly's Directory 1899, 1904, 1911, 1914, 1916, 1919


09
1 High St.

Camden Arms Public House, Hotel & Restaurant (c1820 – current)
Site of current car park was originally a coffee room & stables in the time or horse drawn coaches. (JC)
Refreshment & stable buildings demolished for Maidstone & District bus station.

Bus station demolished for car park. (JC)
M & D bus station said to be at the rear of the current car park – now houses. (JC)
M & D moved into Pembury in 1935 after purchase of The Victor Motor Transport Company (Item 31 below)
Derek Jones, Secretary, The M&D and East Kent Bus ClubNew hotel annex added in 2007.
See Pembury Pubs page for more detail.

Photo c1912 shows out buildings From Pembury in the Past by Mary Standen p21
Photo of 1930s shows Leneys Ales & Stouts & AA sign From Mary Standen's Old Picture Postcards p9
Pembury Conservation Area Report 1998 p23 mentions intrusive floodlighting
Aerial photo showing corner door and secondary front door, now both bricked in. (????) (RS)

See Pembury Pubs page for more detail.

10
3 High St.

Garage buildings demolished in preparation for housing – 2018
Unbranded secondhand car dealer (2012 – 2017)
S & B Autos Body Repair & Maintenance – Rob Sargent (???? – c2010)
Address given in most advertisements – Camden Service Station. 1980 (PVN 23) 1986 (PVN 47)
PVN 27 1981 — Rear of Camden Service Station. Why Rear?
Petrol Filling site (???) Pembury Conservation Area Report 1998 p10
Petrol Filling site in Camden Avenue photo (PVWS)
Aerial photo showing filling station, 3 Fina pumps and canopy (????) (RS)
Aerial photo showing filling station, 3 Fina pumps, no canopy (1966) (Mary Standen – Pembury in the Past , inside cover)

Camden Service Station 3 High St 1969-70 Kent Trade Guide
Camden Service Station motor agents & dealers (Morris dealers) 3 High St 1965, 1970, 1972, 1974 Kelley's Dir
Anstey's Austin (cars) Distribution 3 High St 1959, 1961 Kelly's Dir
Blacksmith's forge & carriage works for Camden Arms in the days or horse drawn coaches.
From Mary Standen's A History of Pembury p44
1909 photo of building in Mary Standen's A History of Pembury p11
Pembury Conservation Area Report 1998 p10, p17 & P18 mentioning petrol filling station.
Pembury Conservation Area Report 1998 p24 mentions the petrol filling station being untidy and unsightly.
Ordnance Survey map c1908

11
5 High Street

Payden's Pharmacy – Chemists (2003 – current)
P.J. & J.M. Ditchett Chemists (1984 – 2003) (JD)
John H. Wilkinson Chemists (1947 – 1984) PVN Issue 23 1980 (JD)
J.J. Glendinning (1932 – 1947) From Mary Standen's Old Picture Postcards p17 (JD)
Building constructed as a chemist's shop for JJ Gendinning in 1932 (JD)
Glendinning previously at 25 High St.

12
7 – 9 High St

Pembury Chiropractic Clinic (???? – current)
Shelie's Flowers Shelie Green 7 High St PVN Issue 102 2000
Lloyds Bank (c1995) 7 High St. (SM) 1965, 1970, 1972, 1974 Kelly's Dir
F. Battell Hairdresser 7 High St 1959, 1961 Kelly's Dir
Frederick Battell Hairdresser High St 1948, 1950, 1955 Kelly's Dir
Manser's Newsagent & Stationers 7 High St 1955 Kelly's Dir
..
Hairdresser (c2000) 9 High St. (SM)
Marlene Hair Stylist 9 High St (WISB 1965) 1963, 1965, 1970, 1974 Kelly's Dir
Marlene (Mrs N.M. Ratcliff) Hairdresser & Beauty Culturist High St 1961, 1955 Kelly's Dir
Marlene (Mrs E.M. Austen) Ladies' Hairdresser High St 1938 Kelly's Dir

13
Village Green

Smithy / Blacksmith / Wheelwright workshop on village green Ordnance Survey maps 1865, 1897
Fire Engine House on the village green. Smithy buildings shown, but not named. Ordnance Survey maps 1909
Photo of 1909 shows small structure From Mary Standen's Old Picture Postcards p1
Photos of c1910 show several small structures From Mary Standen's Pembury in the Past
PVWS photo of 1909 Motor Dash to Hastings shows buildings on the green. Photo 1
Photo from Melvyn Cole showing the wheelwright workshop & house on the green.

14
13 High St

CWC Builders (current)
Jerrom & Co Chartered Accountants 13 High St PVN Issue 102 2000
Cullen at Pembury Chartered Accountants 13 High St PVN Issue 110 2002

Penn Builder 13 High St PVN Issue 48 1986
Kent Radiator Services 13 High St PVN Issue 48 1986
Burton Solicitor Penn House 13a High St PVN Issue 48 1986
G.F. Penn Funeral Director & Chapel of Rest. Pembury Parish Guide of 1966 Confirmed at this address (BR)
G & F Penn Ltd (Est 1862) High St 1938, 1940 Kelly's Dir

15
21 High St

Block of four addresses – 15 to 21 One tea room owner reported living at No 21, and
several photographs indicate the tea room sign at No 21. Otherwise no street numbers.

Hearts Ease Tea Rooms (Mrs E.M. Swaffer) High St. 1948, 1950, 1955 Kelly's Dir
.. Mrs Swaffer private resident at 21 High St – 1959, 1961 Kelly's residential listings
Hearts Ease Tea Rooms (George Ernest Swaffer) High St. 1940 Kelly's Dir
Heartsease Cafe Mrs Swaffer (c1935) From Mary Standen's Old Picture Postcards p17
Hearts Ease Tea Rooms (William Alfred Hill) High St. 1927, 1934, 1937 Kelly's Dir
Heartease Tea Rooms Willie Smith 1924 Kelly's Dir
Heartease Coffee Tavern, High St. Sidney Golds 1914, 1916, 1919 (Kelly's Dir 1914 )
A postcard of this period (1911-1919) shows a sign: "The Heartease Tea Rooms and Cyclists Rest"
Heartease Coffee Tavern Walter Joseph Crotty 1911, 1912 Kelly's Dir
Heartease Coffee Tavern Allan Lewis Brooke 1899, 1904 Kelly's Dir
Heartease Coffee Tavern / Workmen's Club & Reading Room Allan Lewis Brooke 1903 Kelly's Dir
Dance Hall located with Heartease Cafe (????) PVN Issues 84/85 1995 – Pembury Library
Possibly The Cottage Tea Rooms Mrs K. Anderson –
… from undated cream coloured pamphlet in Tunbridge Wells Reference Library
Nos 15 – 21 High St date from c1820s From Pembury Conservation Area Report 1998 P18
Early OS maps (1909) show "P.O."(Post Office) next to No 15 High St. This is thought to be wrong.
The map does not show "P.O." against No 4 High St, it's true location.

16
23 High St.

This shop was once listed as No 23 but is now assumed to be the same as 23a High St.
All retail occupants of 23 & 23a listed below.

17
23a High St

Burtons Solicitors (???? – current)
Billy Jeffcoat Butcher (c1993) (MC)
W.F Jeffcoat Family Butcher 23 High St Outlook adverts 1991 – 1993
A. Bruce Family Butcher From Pembury Parish Guide 1966 in Tunbridge Wells Reference Library
A. Bruce Family Butcher High St. (WISB 1965) Kelly's Dir 1955, 1959 1965, 1972
William Hills Butcher & Grazier (KI) Cattle were grazed at rear of shop. Estimated sale to A. Bruce c1953 (KI)
Hills Photo 1 Hills Photo 2 Hills Photo 3
William Hills Butcher 1934, 1937, 1940, 1948, 1950 Kelly's Dir
W. Hills Butcher & Grocer (c1935) From Mary Standen's Old Picture Postcards p17 (PVWS)
Wm. Hills Butcher no address 1924, 1927 Kelly's Dir
Charles Crouch Butcher & Grocer 23(a) High Street (????) (PVWS) (Kelly's Dir 1912, 1914, 1916, 1919)
From all photos of this building the retail business appears to be conducted from the right-hand side.
It is assumed that the whole of the building was originally No 23, but later usage had the property split.
The dual use of the building required a new address of 23a.
This may help to explain why the retail address hops from No 23 to 23a. Pure speculation!

18
25 – 31 High St Door numbers are a bit of a mess here. 31 is upstairs – 1st floor

Pembury Beauty Salon (??? – current)
Headmasters formally Pembury Hair Studio 25 – 27 High St PVN Issue 102 2000
Arthur Hayes Optician 25 High St (????) (SM)

Pembury Opticians Karen Erret 25 High St Outlook magazine adverts 1991 – 1993
Pembury Opticians Karen Erret 25 High St (1988) PVN Issue 55 1988 Pembury Library

Pembury Hair Studio 27 High St PVN Issue 56 1989 – Pembury Library

Judith's Ladies Hairdresser 27 High St 1970, 1972, 1974 Kelly's Dir

Norman Miller – Dentist c1965 1st Floor surgery. (JS) later moved to 75 Hastings Rd.
N.D. Miller dental surgeon 31 High St. 1972, 1974 Kelly's Dir
Midland Bank 25 High St (????) (PVWS) (WISB 1965 reports 3 banks in the village)
Midland Bank Ltd 25 High St 1955, 1961, 1963, 1965, 1968, 1970 Kelly's Dir (not listed in 1972)
Tobacconist & Confection (next to Midland Bank) 27 High St (????) (PVWS)

Queen's Express Cleaners 27 High St 1968 Kelly's Dir

National Provincial Bank 27 High St 1959 Kelly's Dir Later at No 4 High St in 1961

J.J. Glendinning Chemist (pre 1932) 25 High St From Mary Standen's Old Picture Postcards p17

Tea Rooms & refreshments (c1935) 25 High St From Mary Standen's Old Picture Postcards p17

Pembury Telephone Exchange occupied the floors above the shops 25-31 High St. (????)
From Pembury Conservation Area Report 1998 p14.
Pembury Telephone Exchange on first floor of No 31 (Brian Aylard PVN Issue 118 p27 2004)
Moved from 4 High St. Moved to Hastings Road.

Telephone Exchange 31 High St 1963, 1968 Kelly's Dir ( 1970 at 39/41 Hastings Road)
In 2013 Your Move advertised one of the flats as being a part of the old telephone exchange.

19
29 High St

Holistic Therapies (????) Google Street View
South Eastern Orthodontics – Denture Repair Service 29 High St PVN Issue 110 2002

Maynard, grocer 29 High St 1970, 1974 Kelly's Dir
George Rideout Family Grocer 29 High St. (WISB 1965) 1961, 1965, 1970, 1972 Kelly's Dir


E.R. Barwick confectioner 29 High St 1959 Kelly's Dir

40
37 High St

Village Newsagents & Post Office (2018 – current) Mr & Mrs D. Patel
……Post Office moved from 47 Hastings Rd in Feb 2018.
Village Newsagents Ltd Newsagent Mr & Mrs D. Patel (1998 – 2018) (PVN 95)
H.L Eldred Newsagent, Tobacconist, Stationer, Confectioner, Lending Library 37 High St. (WISB 1965) 1963 Kelly's
R.H. Cox Newsagent 37 High St 1965, 1968 Kelly's Dir 1969-70 Kent Trade Guide
W.J. Gunn Newsagent 37 High St 1961 Kelly's Dir
W.H. Luxford Newsagent, bookseller, tobacconist 37 High St 1959 Kelly's Dir

This shop might have been occupied by Drury & family (1911 – 1950) – see Unresolved Shopkeepers at bottom of the page. Drury did nor specify his shop number in any data so far witnessed. Dates would conflict with Dan Collins stay, unless they shared the address.

Walter Drury Newsagent 1912, 1924 Kelly's Dir

Dan Collins – bootmaker. None of Mr Collin's directory entries gave a specific address – just High Street.
Mary Standen's vague account suggests that he occupied what was a newsagent's shop in her day.
Daniel Collins boot maker High St 1899, 1904, 1911, 1914, 1916, 1919, 1924, 1927, 1934, 1938, 1940 Kelly's Dir
Dan Collins Shoemaker (c1910) From Mary Standen's Old Picture Postcards p20



41
Vicinity of Sycamore Cottages, High St. (53 High St)

Transport Cafe – The Square Deal – High Street From Mary Standen's Old Picture Postcards p33
Demolished in 1980 to make way for a small block of starter homes. This may be in Map of Approved Conservartion Area (PVN 1980) shows a Cafe opposite Sunhill Court – shows it set back from road.
Square Deal Cafe closed & sold 1977 (JL) see below.
Square Deal Cafe 53 High St 1965, 1974 Kelly's Dir
Square Deal Cafe (T. Sumner & Sons) 53 High St 1959, 1961, 1963 Kelly's Dir
Square Deal Cafe (J. M. Matthew) High St 1955 Kelly's Dir
Square Deal Cafe George Alert Greenwood and Marjory Violet Greenwood 1954 – 1977 (JL)
Square Deal Cafe Mr & Mrs Beasalls pre 1954 (JL)
.. The entries for Greenwood and Beasalls were forwarded by Jen Lewis – see Item 001 Articles/Snippets page.
Prior to the Square Deal this cafe was known as 'Grove Cot' or Grove Cottage.
Grove Cafe. Places cafe next to the village hall. (????) PVN Issues 84/85 1995 – Pembury Library
William Rowlinson Cafe Grove Cottage, High St 1948, 1950 Kelly's Dir
Mrs Skinner Cafe Grove Cottage, High St 1940 Kelly's Dir
Benjamin Skinner Cafe Grove Cottage, High St 1937, 1938 Kelly's Dir
Photo of Square Deal Cafe – Melvyn Cole
Photo of High Street showing the development signs for Sycamore Cottages – Melvyn Cole.
Henry Cooper , Harness Maker, Grove Cot. 1904, Kelly's Dir
Pony Mail depot & stable in 19th century Mary Standen's Pembury in the Past p20
No detail of 'Pony Mail' – not a mail service – may have been a carrier, coach or transport service.

42
Woodsgate Corner

Pembury Auto Centre address given as
Woodsgate Garage From Mary Standen's A History of Pembury p38
Several photos of Woodsgate Corner now surfaced – see Woodsgate House entry.
Old garages usually occupy the sites of old stables or blacksmith's yards. Needs investigation.
Woodsgate Motors Ltd 68 High St 1961, 1965 Kelly's Dir
Woodsgate Garage & Service Station 1950 Kelly's Dir
Baggesens Woodsgate nurseries 1927, 1934 Kelly's Dir
Baggesens, The Shack & Woodsgate nurseries 1931 Kelly's Dir Location not known.

43
Woodsgate House Woodsgate Corner. (64 – 68 High St)

Texaco Filling Station (??? – current) & convenience store.

Woodsgate Hotel (Rt Hon See) 64 High St 1959 Kelly's Dir
Woodsgate Motors Ltd (Volkswagen 1959) 68 High St 1959, 1970 Kelly's Dir
Woodsgate Country Club (H. Cartwright) 1955 Kelly's Dir
Woodsgate House / Woodsgate Hotel / Woodsgate Restaurant / Woodsgate Inn / Woodsgate Coaching Inn.
House Demolished 1960

W. & A. Mordaunt Tea Garden Woodsgate 1931 Kelly's Dir
Miss Zoe Mordaunt Refreshment rooms, Woodsgate 1927 Kelly's Dir
Tea garden 1928 From Mary Standen's Old Picture Postcards p32
Postcard of Tea Garden shows Woodsgate House from the rear.
General views and data From Mary Standen's Old Picture Postcards p30 & p31
Photo (PVWS) of Woodsgate Restaurant shows advertisment for swimming pool and petrol filling station.
Petrol filling station looks to occupy the 2013 site of Pembury Auto Centre.
Coaching Inn also known as The Royal Oak in the 1700s through to the 1830s – needs confirmation.

43a
62 High St Site of a swimming pool (from 1930s), nightclub, cafe & transport cafe in the 1960s.

Location confirmed as the Cafe associated with the Woodsgate Swimming Pool (BR) PVN Issue 153 p7 2013
Site of a lido / swimming pool. Reported to be intact and buried under Woodsgate Way and its houses (SM).
OS map of 1936 shows site (TN). Closed in 1973 (Tunbridge Wells Museum)


Woodsgate Lido & Swimming Pool 62 High St 1970, 1972, 1974 Kelly's Dir
Woodsgate Club 62 High St 1970, 1972, 1974 Kelly's Dir
Woodsgate Swimming Pool Hugh Boorman PVN Issue 153 2013 Claims site to be at Woodhill Park. (HB)
Woodsgate Transport Cafe 1965 ??? (WISB 1965)
Woodsgate Transport Cafe – sometime in the early 1970s the owners of the Swimming Pool extended their car park for
.. lorries and broadened the existing cafe for transport drivers (KI)
Woodsgate Lido & Swimming Pool (Finch & Hamsley) 62 High St. Kelly's Directory 1959, 1961, 1963, 1965
Some discrepancy in the name of the owner of the swimming pool –
… Frank Holden (KI) Frank Hemsley (SS) Finch & Hamsley (Kelly 1959 – 65)

See Woodsgate Maps (Localities / Woodsgate) for greater detail of area and photos of the swimming pool.

44
43 High St

Cycle and Motor Repairs From Mary Standen's Old Picture Postcards p20 & PVWS
Fred Rendell c1910 ? Cycle Repairs From Mary Standen's Old Picture Postcards p20

Fred Rendell is dotted around the village from c1903 to c1961. This entry will try and list all his achievements.
It is interesting to speculate on some of Mr Rendell's change of trade.

Frederick Rendell – Cylce maker From Kelly's Directory 1903, 1904, 1913
Frederick Rendell – Motor Car Engineer, Hastings Rd. Kelly's Dir 1914, 1916, 1919 1927, 1931, 1934, 1937, 1938.
Frederick Rendell – Confectioner Hastings Rd. Kelly's Dir 1937. Also listed as Motor Car Engineer
Frederick Rendell – Motor Car Engineer, Hastings Rd. Kelly's Dir 1940.
Frederick Rendell – Electrical Engineer, Hastings Rd. Kelly's Dir 1948, 1950, 1955 (4 Hill View), 1961 (18 Hastings Rd), 1959.

Associated with Pembury Garage – Hastings Road? See Item 28 on Hastings Road page.

The postcard shows a long block of wooden clad houses with 6 upper windows.
Only the far end of this block remains – the portion with 2 windows – this is now No 41 High St.
In 2010 it is still recognisable with wood cladding, one flush window to the right of door and one bay window to the left.
In 2013 the door between the windows has been bricked in and moved to the far end of the building.
The Cycle Shop occupies the next house – what is now a red brick house – No 43.
This Composite Photo shows 3 views from c1910, c2008, & 2013.
The top and middle shots show the women in very nearly the same location.

45
Tonbridge Road

Notcutts Garden Centre 1989 – current (CW) (MPn)
Whitelegg's Garden Centre 1960s – 1989 (CW) (MPn) 1967 – 1989 (BW)
G.G. Whitelegg Ltd Lakeside nurseries, Tonbridge Road Kelly's Dir 1963, 1970, 1972, 1974
Wallace Nursery (R. Wallace & Co) nurserymen & landscape gardeners. The Nursery, Tonbridge Road 1965 Kelly's Dir

Wallace & Co at Pembury 1963 – 1967 (BW)

.. A History of the Whitelegg / Wallace / Barr businesses by Brian Wates
.. Thanks to Brian Wates for permission to archive and print this document. Original documents now with RHS.
.. For further details & clarification Brian Wates can be contacted at http://www.brian-wates.co.uk/

The following reverse chronology summarises Brian Wates' article in terms of the Pembury interest.

1967 R. Wallace & Co taken over by George Whitelegg.
1965 Mr. Hale quit. George Whitelegg approached to assist in management.
1964 New glasshouses & offices erected at Pembury.
1963 Mr J. Stewart Hale sold Lakeland Nursery at Pembury to George Leslie Wates (Wallace & Co).
1962 Business was split. Wallace & Barr name sold to P. de Jager & Sons (London) Ltd.
1961 Mr J. Stewart Hale, manager of Wallace & Barr since 1954, purchased Lakeland nursery at Pembury
.. – possibly from B. Reeves.
1961 B. Reeves nurseryman, Tonbridge Road 1961 Kelly's Directory.
.. No business entries for a nursery in Tonbridge Rd, Pembury in 1959, 1955, 1950. Kelly's Directory.
1960 Land at Forest Row, Tunbridge Wells sold for development.
1956 Merged business of Wallace & Barr operating from The Old Gardens, Tunbridge Wells until 1963/4. Link to map
1955 George Leslie Wates purchased Barr & Sons a nursery based in Taplow, Bucks.
1940 R. Wallace & Co sold to George Leslie Wates, still trading as R. Wallace & Co.
1937 Additional land acquired at Forest Way, off Forest Road, Tunbridge Wells.
1920 Moved to The Old Gardens, Bayham Rd, Tunbridge Wells. Previously used as nursery since 1837
1890 Robert Whistler Wallace's original nursery at Kilnfield Gardens, Colchester, Essex Trading as R.Wallace & Co

The Articles Archive page contains Mick Pattenden's memoirs from 1957 – 1997 (Article 013)
Pembury Village News (PVN) Issue 90, page6 has an article about Mick Pattenden and his recollections.

Thanks to Carol Watson at Notcutts for kick-starting this topic.







Unresolved shopkeepers – help needed


….




….

John Alexander grocer High St 1899 Kelly's Dir


….

Mrs Kate Anderson Refreshment Rooms High St 1927, 1937, 1938 Kelly's Dir Not thought to be connected with Heart Ease


..

Barclay's Bank (I.V. Batty manager) open Tues & Fri 11am – 1pm High St 1931 Kelly's Dir


….

Charles Baldock confectioner High St 1940 Kelly's Dir


..

George Baldwin Saddler High St. 1886 Kelly's Directory


….

Ernest R. Barwick Confectioner 2 & 3 High St 1950, 1955 Kelly's Dir Address conflicts with other businesses


….

Brawn & Co Estate Agents High St 1940 Kelly's Dir


..

A.L. Brookes Coffee Tavern High Street 1886 Kelly's Dir


….

Chacksfield Brothers butchers High St 1911 Kelly's Dir


….

Fire Brigade Call Office. Chacksfield Brothers butchers High St 1911 Kelly's Dir


…

Leonard Cobb confectioner High St 1931 Kelly's Dir

…




..

Sidney Douglas Bullen fishmonger High St 1931 Kelly's Dir.. S.D Bullen also at Telephone Exchange


..

A.M. & S.H. Giles Confectioners & Tobacconists High St 1955 Kelly's Dir


.

Albert Fakes Field hairdresser High st 1916, 1919 Kelly's Dir (Died 18 Oct 1917 – Richard Snow PVN 146)


….

William Fielding Dentist High St 1934 Kelly's Dir


..

Harold Jago greengrocer High St 1937 Kelly's Dir


….

Pembury Estates Ltd High St 1940 Kelly's Dir


….

Pembury Market Garden High St 1955 Kelly's Dir Address error ? Main location in Hastings Road ?


….

Eli Price taylor High St 1912, 1914 Kelly's Dir Lower Green in 1924


…

Price & Penn ironmongers 1931 Kelly's Dir

….

George Valentine shopkeeper High St 1924 Kelly's Dir..


….

Jack Vickers hair dresser High St 1927 Kelly's Dir..


….

Edgar Rivett Walker Draper High St 1940, 1950 Kelly's Dir


..

Albert Wilson bootmaker High St 1948 Kelly's Dir


….

Wm. Wood watchmaker High St 1948 Kelly's Dirir..


….

Albert Woodhams hairdresser & tobacconist High st 1911, 1912 Kelly's Dir


.




….



Extract of 1840 Tithe Map showing a part of the High Street – submitted by Kathryn Franklin.



..

Early Telephone Numbers


..




..

The Shops Introduction and Reference Page carries a list of known telephone numbers of Pembury shops.


..

Where a business has changed name, sometimes the telephone number did not.


..

This may give a clue to continuity of trade at a given address, when the the full address is not obvious.







Link to Hastings Road page
Link to Lower Green Page
Link to Pembury Pubs page



Abbreviations used for data sources and contributors:

PVN Pembury Village News – quarterly journal
PVWS Pembury Village Web Site www.pembury.org
WISB Pembury Women's Institute Scrap Book 1965
TN Tony Nicholls
SM Steve Morton
JC James Cunningham
HB Hugh Boorman
BR Barbara Russell
MP Michelle Pierce
RS Rob Sargent
MG Maggie Godley
MC Michele Coldwell
JD Janet Ditchett
JS Jack Stead
DG Derek Goodwin
TK Terry Killick
MPt Martin Petch
MPn Mick Pattenden
CW Carol Watson
KI Ken Isaac
BW Brian Wates
JH Jill Hickmott
SS Sylvia Schmocker
JL Jen Lewis



IMPORTANT !!! This needs your help. All contributions will be credited.
If you have any further information or corrections please contact me –
Tony Nicholls email:

pemburyhistory@gmail.com
Compiled by Tony Nicholls





Retail - High St




IMPORTANT !!! This needs your help. All contributions will be credited. If you have any further information or corrections please contact me –
Tony Nicholls email: pemburyhistory@gmail.com